I-129F Processing Time Forecast Drops to 8 Months
Introduction
During the COVID-19 pandemic, the USCIS processing time for I-129F applications jumped significantly. The agency's ability to process cases was hindered and USCIS was no longer able to keep up with the incoming cases. The backlog grew and grew.
Many unlucky filers thought they were in for a 6 month processing time, but they slowly realized their expectations were far from accurate as their wait time ticked well past the one year mark.
Current Processing Time
We can see in the graph below that the processing time peaked in January 2023, reaching a high of about 15 months. However, the processing time has steadily dropped since then, as USCIS significantly increased its rate of processing. The current processing time for I-129F applications has finally dropped to 12 months.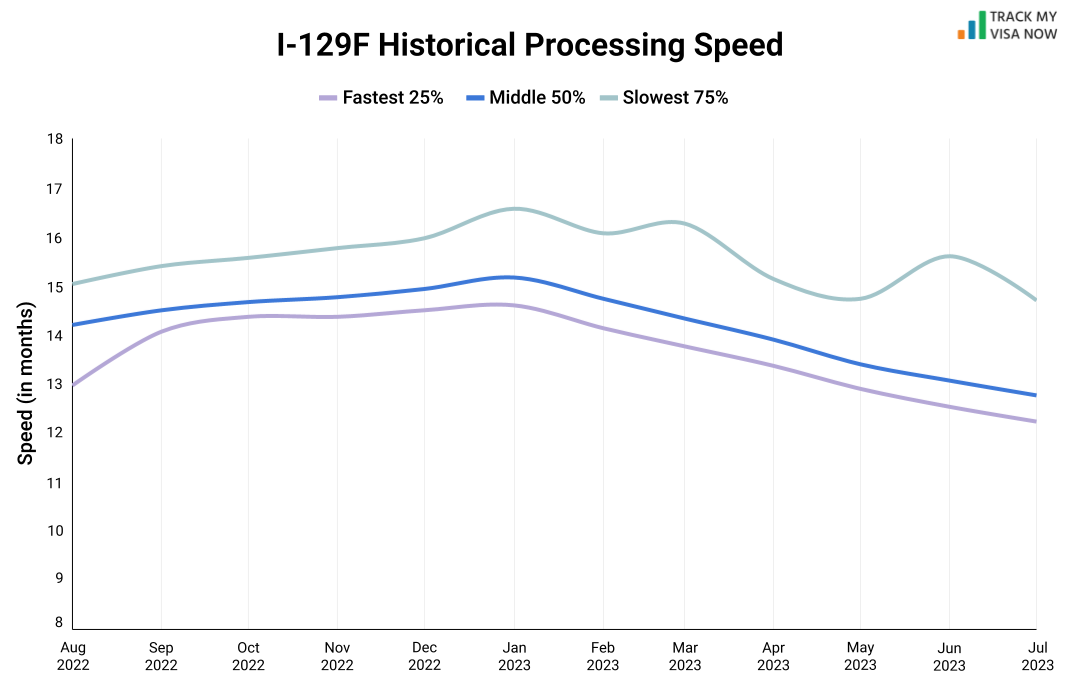 Keep in mind that this graph is showing the processing time based on the processing date, not the filing date. Basically, for each month, we look at all the cases that were processed during that month and figure out how old they are. The middle line in the graph shows their median age (their median processing time). The other two lines show the 25 and 75 percentiles.
So, couples whose applications are being processed today waited for about 12 months. That's a significant improvement over 15 months! But the good news gets even better…
Forecasted Processing Time
At Track My Visa Now, we're all about forecasting. We love sharing real-time case processing data with the visa community. But, as we all saw during COVID-19, the current processing times aren't always a good indicator of future processing times. The same holds true today, and that's why forecasting is so important.
Our algorithms carefully track which cases USCIS is currently working on. We then use statistical forecasting models to predict when they will start working on other cases.
Our forecasts show that newly filed I-129F applications will have an 8 month processing time. USCIS has formally set a goal to reach a 6 month processing time for I-129F cases. So far, it looks like they're right on track. Whatever happens, we'll be here to keep you updated.
— Leo, Track My Visa Now